Fellow film geeks:
I had a chance to see Awkwafina in The Farewell this weekend and it was just another (tear-jerking) reminder that Asian Americans are on a roll. Starting with last year's Crazy Rich Asians on the big screen, the roster continues to grow: NBC's A Little Late with Lilly Singh, the much-anticipated Mulan, and Marvel's Shang-Chi, starring the first-ever Asian lead for the franchise.
The rise of Asian cultural movements is piquing the interest of people everywhere. We are often asked by clients and colleagues, "can an ad segmented for Asian Americans also play in general market?" The answer is an emphatic, "yes". Whether it be cosplay, cricket, e-sports, foodies, nerd-life, or lux-life, we enjoy finding the subtle, yet impactful, ways humans find common ground. It is a nuanced balancing act – supplying the authenticity of our core heritage and culture while communicating in a universal voice.

Speaking of action movies, we've also been dabbling in the realm of superheroes. Our latest TVC campaign featured Asian American cosplayers in full warrior gear. I can't help but admit I got a thrill out of being a part of a project that has Asian Americans representing heroic and strong characters – even when it's rubber swords and replica helmets. Asians & Asian Americans are finally getting the roles and recognition they have long deserved. It's about time.
And we've been rewarded with success. We've run our campaigns in theaters nationwide in front of Spider-man: Far from Home, on Cartoon Network's Adult Swim, and on live-streaming platform, Twitch. The Asian American story CAN be anyone's story.
Admerasia proclaims itself as an "&" agency. We do more than ad. We connect.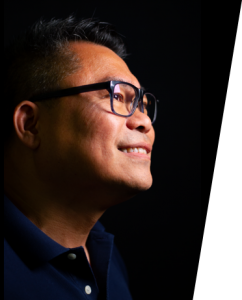 I've come to embrace the &. I started off life as a boy, as Chinese. I grew into an immigrant, an American. Sometimes it felt like I had to choose between my identities, that they were in conflict. But as I grew, instead of cutting things out of my life, I added to the list of the things that made me who I am. I &.
This & approach to life is how we operate here at Admerasia. Barriers, lanes, human constructs – we do not adhere to. We do not believe our stories are limited. We do not believe our voices stop at the borders of Chinatown or Jersey City. We do believe in &. It's that foundational belief that carries our ads across continents, into your home.
I hope this tale of Awkwafina & Identity & Brand Craft has inspired you to put a little & into your day. Limits aren't for us. We can be Asian & American & Asian American.
See you at the movies.
Jeff Lin
Co-Founder of Admerasia&
Soccer Enthusiast&
Wine Collector.