LINE.
"What's that? I feel like I've heard of it before. It's green. Is it the one with the eyes? No? That's WeChat. So which is LINE?"
– Real Life Conversations.
What is LINE:
LINE is a free messaging and voice call app that originated in Japan in 2011. It was originally designed by NHN Japan to facilitate employee communication after the Tōhoku earthquake. It went public a few months later. LINE quickly grew to 100 million users in its first 18 months.
Who uses LINE:
Today, LINE has over 700 million users worldwide. It is the most popular messaging service in Japan with an incredibly strong presence in Taiwan, Thailand, Turkmenistan and Indonesia. Runner ups are India and Spain. LINE's demographic runs young – from Gen Z to early Millennial.
It services iOS, Android, Blackberry, Nokia, Windows Phone and PC (Windows and Mac) users.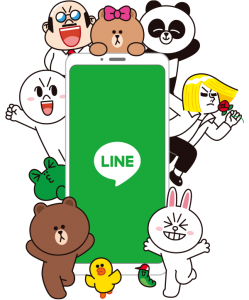 What are its features:
LINE started as a basic messaging app out of necessity but has grown into a multi-function app.
Free and easy to use, LINE is popular for one-on-one and group messaging. Texts, photos, videos, and music are all shareable. Groups can be intimate amongst friends or up to 500 for more interest/community based topics.
Timeline and homepage features, reminiscent of oldie MySpace, are customizable with stickers and themes.
Stickers are a big attraction on LINE. A popular replacement for Emojis, stickers can be purchased or downloaded for free. Their popularity is tantamount to LINE's own success. 1 Billion stickers are sent on a daily basis. You can even customize your own stickers and sell them. One creator in Taiwan made millions.
LINE FRIENDS (LINE's sticker characters) even have brick and mortar shops, including one in Times Square, NYC, selling all things related to the characters. And it doesn't stop there – there are video games, cafes and a character-themed hotel in Seoul.
LINE GAME is an additional install where users can play (both multi-player or solo) a range of games. By 2013, LINE GAMEs have been downloaded 200 million times.
LINE PAY is an in-app mobile payment system. Users can exchange money with each other. It can also be used for in-store purchases at participating retailers.
There are micro-functions per territories as well, including a taxi service in Japan, a food delivery service in Bangkok, and a video service in Taiwan.
LINE Lite launched in 2015, offering users all the messaging functions but with the frills of themes and timeline.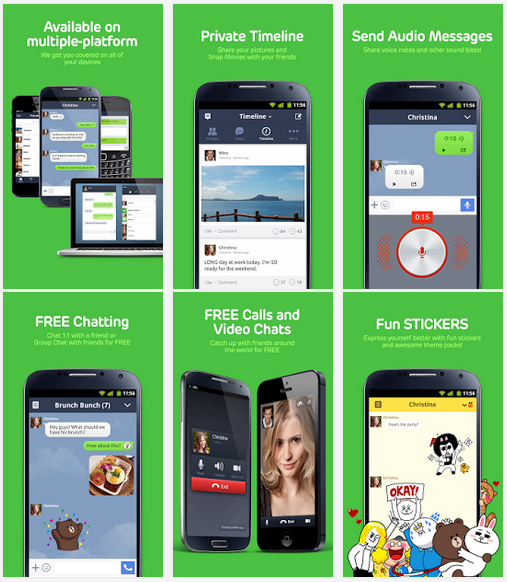 How do businesses and marketers use it:
Official Accounts are LINE's influencer and business accounts. LINE users can follow these accounts for news, updates, promotions and more.
Companies can create LINE stickers based on their products, mascots, etc., and distribute them to LINE users. These stickers are used by LINE users to express feelings like "thanks" and "sorry," and can also be used to promote your company's products or services.
LINE Gift allows users to send electronic gifts to other users. This is a great business opportunity to share coupons, promotions, and gift cards.
Who are its competitors:
LINE'S biggest competitor is, of course, WeChat – Asia's behemoth all-in-one app. WhatsApp is India's choice of messaging service, so LINE has found only 2nd place in South Asia.
In the US, other messaging services like Facebook and WhatsApp and social apps like Twitter offer up a competitive market. But LINE fans are dedicated and passionate about the app with high active rates after download.
Click Here for more on WeChat.
How does it compare:
PROS:
LINE has plenty to interact with. It's fun nature is attractive to young users and it's constant refreshment of content keeps them coming back.
CONS:
LINE can only be used on one mobile-device and one personal computer at a time. In other words, if you have a multitude of devices you can only install on two.
Where is it going:
LINE is always doing something new. Its latest smart technology add is a function to that allows users to capture their facial features and embed them onto their characters. In real-time, your character can conduct a conversation while matching your expressions. Developments like this are always popping up with LINE.
LINE has plenty to offer businesses who want to target Asian Americans. To learn more, contact us!
Written by XiaoHwa S. Ng
Digital Strategist