When you start to see a spate of brands promoting their limited-edition products or ads with the festive red color in January, you know it is time to say Happy New Year again. Lunar New Year has become one of the most important moments for brands to engage Asian consumers around the globe, including millions in the U.S. It is not just an auspicious holiday deep rooted in tradition, it is also an occasion to spend. 
2020, the Year of the Rat, is a special one. It is the beginning of a new decade and marks the start of the 12-year Zodiac cycle. However, the outbreak of the Wuhan coronavirus just a few days prior to the festival has largely changed this year's celebration scene in China. Retail, restaurants, theaters and theme parks successively closed down, and tourism plummeted. In response to the circumstances, many brands, from global luxury group LVMH and beauty group L'Oréal to local e-commerce giant Alibaba, have made generous donations to help China fight the virus. 
Despite the majority of the population in China under self-quarantine at home, the New Year's spirit continues – people are finding creative ways to stay occupied and fight the boredom. Similarly in the U.S., while Asian Americans are precautious against the virus situation and moving away from dragon dance parade and gatherings, the celebrations are turning to online shopping and gifting red envelopes money over WeChat (微信红包), the most popular social platform among Chinese. 
Echoing the spirit and demand, brands are not shunning away from their existing LNY promotions. This year's beginning has been tough – we all need a bit more cheer and good luck than usual, don't we? Here are the 5 ways that brands have adopted their 2020 LNY campaigns.
#1 Carnival of the world's most famous rats
Rat or mouse, cheer up! Time to flourish and shine! 
Mickey apparently has been very busy juggling between many brand collaborations. He appears in GUCCI's capsule collection where he plays with colorful waterfowl in a traditional Chinese painting; his joyful face is on the bottle of SK-II's signature toner. As a lovely couple, Mickey and Minnie, in all-red outfit, become cute charms of fashion jeweler Pandora's LNY collection.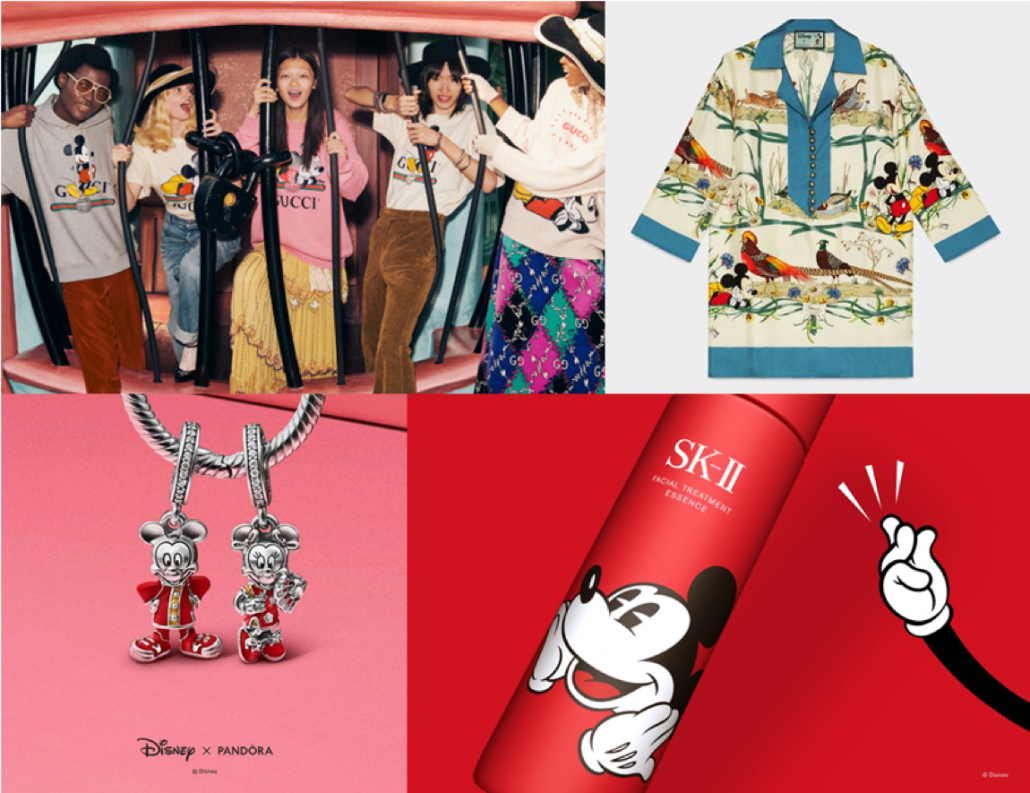 Jerry is catching up too. The cute character is featured in limited-edition bags and accessories from popular affordable luxury brands Kate Spade and ETRO.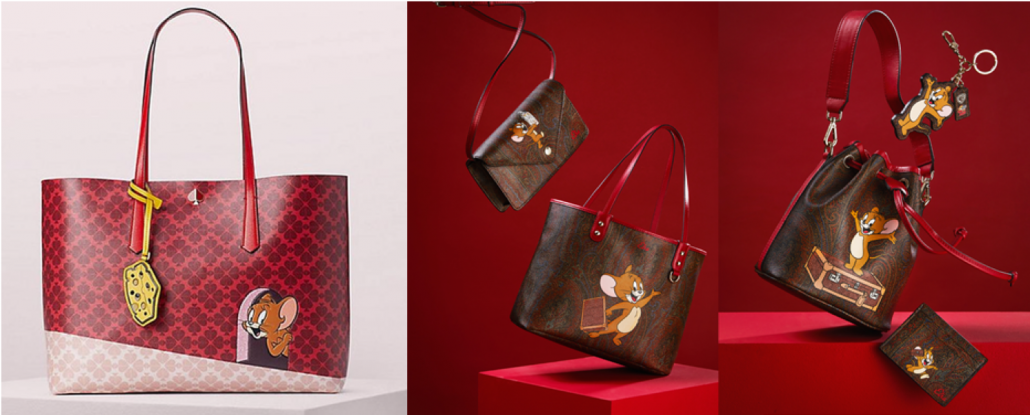 Even New York's Pizza Rat gets its own spotlight. Rag & Bone pays tribute to the rat's optimism – no slice is too big to carry & no dream is too big to achieve! Exactly the optimism we all need for this new year.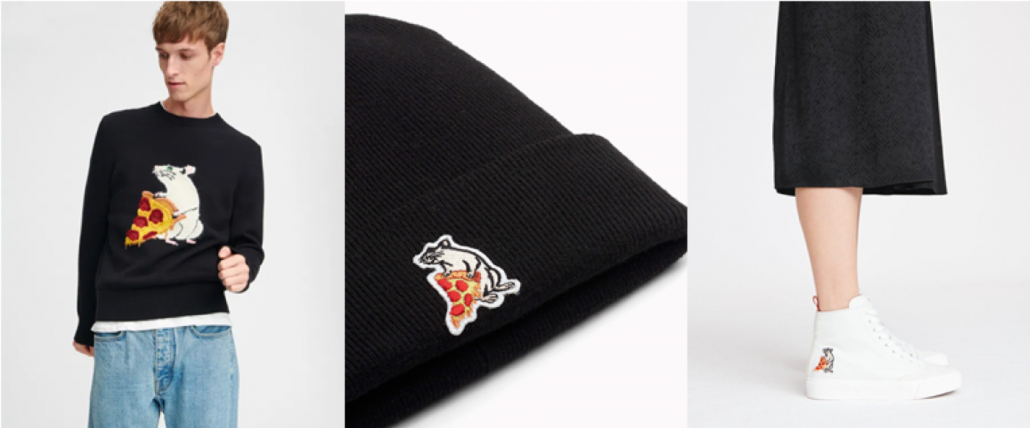 For many other brands, from luxury jewelry and watchmaker PIAGET and Harry Winston to Scotch whisky Johnny Walker and winter staple UGG, interpretation of rat comes in different sizes and shapes.

#2 Fun interpretation of tradition
Nike's first global LNY commercial has been a massive hit this year and is widely praised for putting a witty twist on the LNY red envelope gifting money tradition (给红包). The commercial showcases a chase between a girl and her aunt over multiple years as the girl refuses to accept her aunt's red envelope. Of course, running away from auntie is not easy, and a pair of good shoes helps! "Hold nothing back this New Year", Nike has certainly captured the playful yet audacious mindset of the new generation.
Be sure to watch the commercial till the end. 
#3 Tech x Style
Tech-savvy and style-minded, Asian Americans seek novel and exclusive product experiences. 
That's why this year's Adidas LNY edition has generated enormous buzz even before it hits the shelf in February in the U.S. The "Mickey Mouse Stan Smith" shoe design arrives in 3D comic strip graphics and you can only see the illustrations come to life with a pair of 3D glasses!
To make hearables more fun, Apple rolls out a service that allows consumers to engrave an emoji on their AirPods case. The emoji set includes all the Zodiac animals and a couple of fun options like the alien and poop. If this is not celebratory enough, LOUIS VUITTON has red-and-gold LNY collection earphones priced over $1000.

#4 Videos on Instagram and WeChat
Asian American Millennials and Gen Z are social savvy and bi-cultural. Social platforms have become a critical channel for brands to reach out to them, and we see brands have evolved from posting a single still greeting image to creating dynamic short videos, primarily animations, to enable longer and deeper connections with the audience. 
Some good examples from Instagram: Animations from Luxury jeweler Tiffany & Co. feature a nimble rat giving gifts to his loved one; Italian luxury brand Valextra debuts an illustration of a gentleman-like mouse magician; In an elaborate animation inspired by the Chinese paper cutting, Mercedes Benz cars joins the festive celebrations with Chinese families.

On WeChat, the most popular social app among Chinese Americans, brands are pushing customized LNY ads to laser focus on the fast-growing Chinese American segment. TD Ameritrade pushes its animated greetings through its official WeChat account to showcase their understanding towards the group's cultural interests.

#5 Influencer crossover
Influencers play a hugely important role in shaping Asian Millennials and Gen Z's shopping decisions and brands certainly have taken note.
Mr. Bags, a highly popular Chinese fashion blogger, continues his collaboration with French fashion house Longchamp and launches a collection of handbags that feature a bright yellow cheese pattern – a humorous approach to hint the Year of the Rat. Hit shoewear brand Vans launches a limited-edition line in collaboration with young Chinese artist Zhao Zhao. 
Similarly, prestigious cognac brand Hennessy taps into renowned Chinese American artist Zhang Huan and releases a LNY collection with the packaging inspired by the contemporary artist's work "Eaux-de-vie". 

This is only the beginning. Brands need to do more, and do it right. 
While an increasing number of brands are aware of the significance and cultural context of the Lunar New Year, there are still brands that either totally overlook this opportunity or do it wrong by rolling out campaigns that are irrelevant or formalistic. Lululemon, for example, simply puts up bland images with uninspiring cultural elements on its website. Guess the response from Asian peers for this move? Yikes. You need to do better!
Asian American spending doesn't stop after Lunar New Year. Chinese Valentine's Day, Singles' Day, Moon Festival and Diwali…you name it. Some of these Asian holidays have already become a global phenomenon – Singles' Day, the online shopping spree on November 11th, generated $38 billion in 2019, with more than 200,000 brands from 78 countries including the U.S. The figure is double the combined sales of Black Friday and Cyber Monday, and garnered within only 24 hours. 
Realizing the opportunities, some brands have gone ahead and developed a full calendar of targeted campaign activities to engage this affluent and influential consumer group, and they are the ones that will win the hearts, minds and wallets of this market. 
Do you want your brand to lag behind? Drop us a note if your answer is no. 
We wish you a healthy and prosperous Year of the Rat!  
Written by Selina Guo
Planning Director
selinag@admerasia.com