There are a few celebrities in our celeb-obsessed world that create mass hysteria among their fans. And then there is Beyoncé. For over two decades now, Queen B has been ruling the hearts and minds of her fans and more recently breaking the Internet in ways that weren't thought possible. But if you are someone who has been online before then we don't need to give you a 101 on the superstar power of Beyoncé.  You probably already know about her beauteous pregnancy photo shoots that gathered millions of likes within minutes and her recent groundbreaking Coachella performance. Or her epic album drops and the elevator showdown between her sister Solange and husband and music mogul Jay-Z.  As marketers, you might even follow her every move because who else can give us better lessons in hype marketing and exclusivity than her?
If so, then you might be left wondering recently that what one of the biggest music superstars on the planet was doing when she performed at a wedding in India? Well, then hold on to your seatbelts because we are about to introduce to you to one of Asia's biggest billionaires you might have not heard of: Mukesh Ambani, the man who casually dropped $100 million for his daughter's wedding. Mumbai-based Ambani, whose net worth at the moment is $44.3 billion is not only the richest man in India but as of 2018 in entire Asia, leaving behind Alibaba's Jack Ma. Though you might have heard of Antilla, his palatial, 27-story residence in Mumbai, which is often compared to the Buckingham Palace in its grandness. While Jack Ma, started China's extremely popular shopping platform, Alibaba, Ambani is the Chairman and Managing Director of Reliance Industries, India's second-biggest company. Reliance Industries started when his father, the late Dhirubhai Ambani set it up as a textile and fabric manufacturing company. Over the years the company diversified into refinery and petrochemicals and then telecom and retail. Incidentally, Reliance Industries is the same company responsible for India's recent Internet explosion by providing fast-speed Internet at throwaway prices. Which, as we pointed out here, is already changing the global pop-cultural landscape by introducing a heavy Indian influence. According to Bloomberg, this fast speed Internet connection, called Jio is also responsible for the recent surge in his wealth that pushed him to the top of the Billionaire List.
So when his 26-year old daughter, Isha Ambani, who was quickly dubbed as the 'Indian billionaire heiress' by the US media was to get married to Anand Piramal, the executive director of the Piramal Group, another of India's top companies, it was expected to the extra-est Indian wedding ever. And it was. In an Indian wedding season that was decked with famous couples like Priyanka Chopra and Nick Joans, the Ambani-Parimal wedding upstaged everyone with its bigness, fatness, and Indianness. With a price tag of $100 million Harry-Megan Royal Wedding was $40 million in comparison), the bride's trousseau alone cost $12 million. Apart from Beyoncé, who was present with her Mom Tina Knowles, minus Jay-Z, the celebrity guest list also included Hillary Clinton, John Kerry and Ariana Huffington. But beyond the international guests, the wedding seemed to have summoned the entirety of Bollywood, including superstar Shah Rukh Khan, and barely fresh off her own wedding, Priyanka Chopra along with husband Nick Jonas. Like most typical Indian weddings, the festivities lasted for a week but unlike most Indian weddings, it created a buzz that's lasted much longer. So if you are still wondering, what does it take to have Beyoncé perform a private concert? It's ultimately a big, fat, Indian wedding.
PS. Since we are all collectively upset over not getting an invite to that wedding, here's a Beyoncé gif that hopefully makes up for it!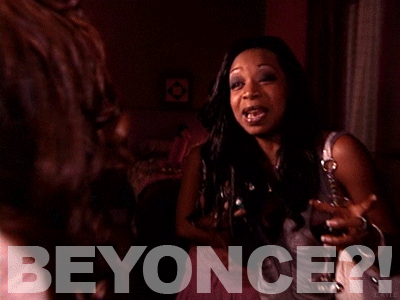 Words
Yashica Dutt, Associate Creative Director